Call Out for Dance Artists to Join QuestLab Network 2019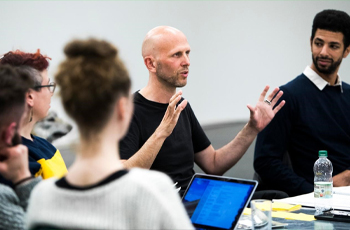 Studio Wayne McGregor is offering an opportunity for eight dance artists from across England to participate in the second year of our artist development programme focusing on intersections between dance and technology. Funded by Arts Council England's Ambition for Excellence programme, QuestLab Network will create a new network of dance artists, developers, technologists and commercial organisations, leading to the development and delivery of performance and engagement projects around the country.
Applications close at 5 pm on Monday 20th May 2019.
QuestLab is seeking a diverse range of artists with a background in any dance form, at any stage in their career and from across England.Artists should be experienced in or have a demonstrable interest in working with digital technology alongside an interest in creating work for their region, an understanding of their local context and how they might develop projects that address challenges relating to engagement.
Ghislaine is working with Studio Wayne McGregor for the second year as Mentor and Lead Contributor, inputing across the programme with the chosen choreographers and adding in topical creative technology content and context throughout.
QuestLab Network is inclusive and open to all. Creative practitioners who identify as neurodiverse, disabled, BAME and/or LGTBQ are welcome and encouraged to participate. Please let the QuestLab Network know when applying if you have specific access requirements to attend an interview or take part in the scheme.
The programme will run from Autumn 2019 until the end of 2020 including a two-week dance and technology residency at Studio Wayne McGregor with bursary support for travel and accommodation costs, mentoring and an opportunity to receive seed funding to develop and deliver a project in your local region.
To watch the film from last year's residency and hear testimonials from the 2018 QuestLab Network artists, and to apply for 2019, visit the QuestLab Network page.